Tagging Leads, Labeling Leads, Wrong Number, Not Interested, Do Not Call, Buyers List
If you'd like to see an explanation of how Tags work watch this video:
What are "Tags"?
Tagging is a great way to sort the contacts in your marketing list. Based on the outcome of your call with a prospect, it is helpful to label or "tag" them so that you know the appropriate next step to take. If the call went well, you may want to label that prospect as a Lead. On the other hand, if they've made it very clear that they are not interested in doing business with you, Not Interested, may be the more appropriate tag.
Where do I add Tags to calls?
Tagging is easy and can be done from your Call Activity screen. Just click the + icon to select from the Tags available.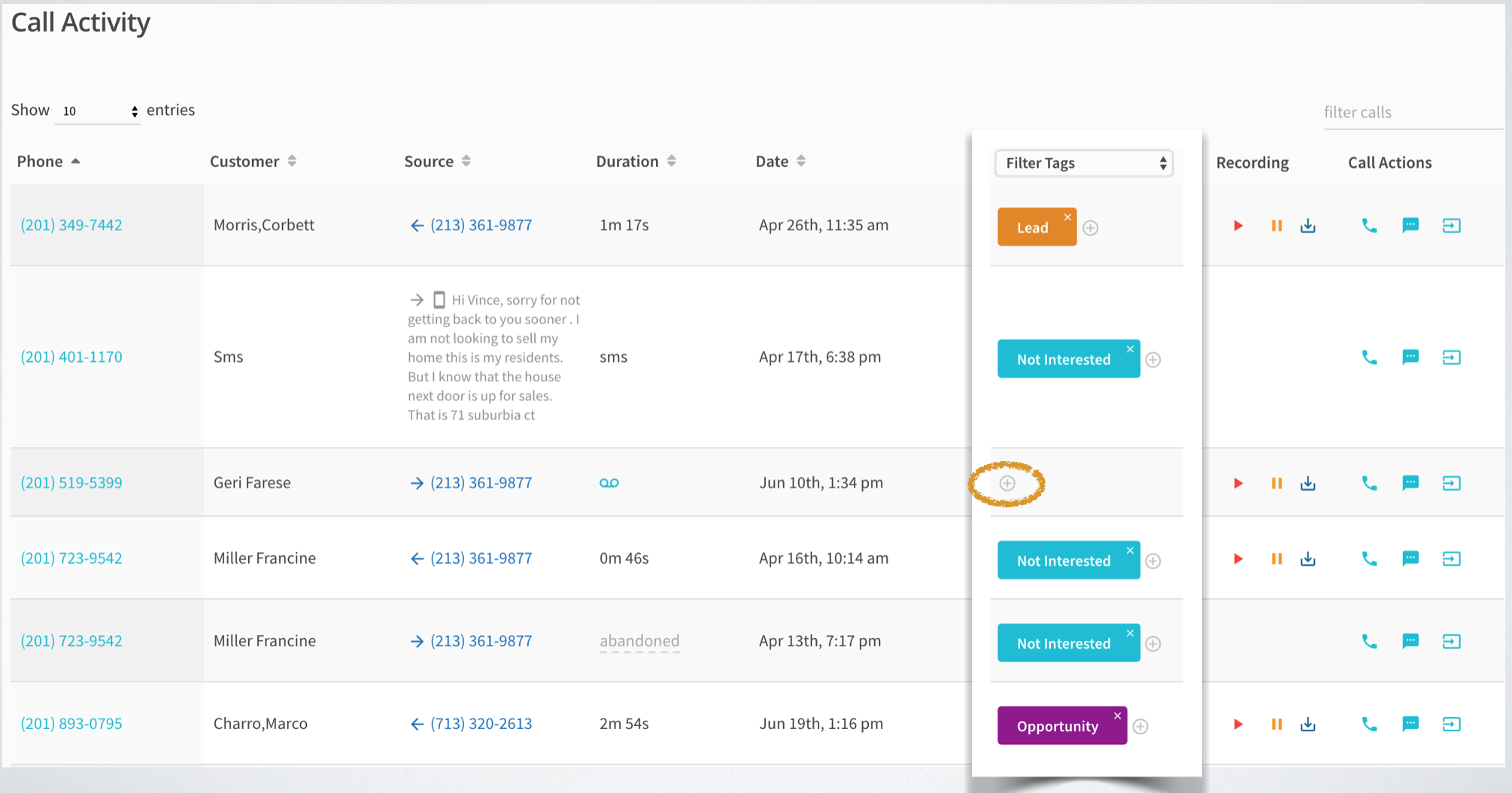 You will often find it helpful to use the Filter Tags function to view your calls grouped by Tag type.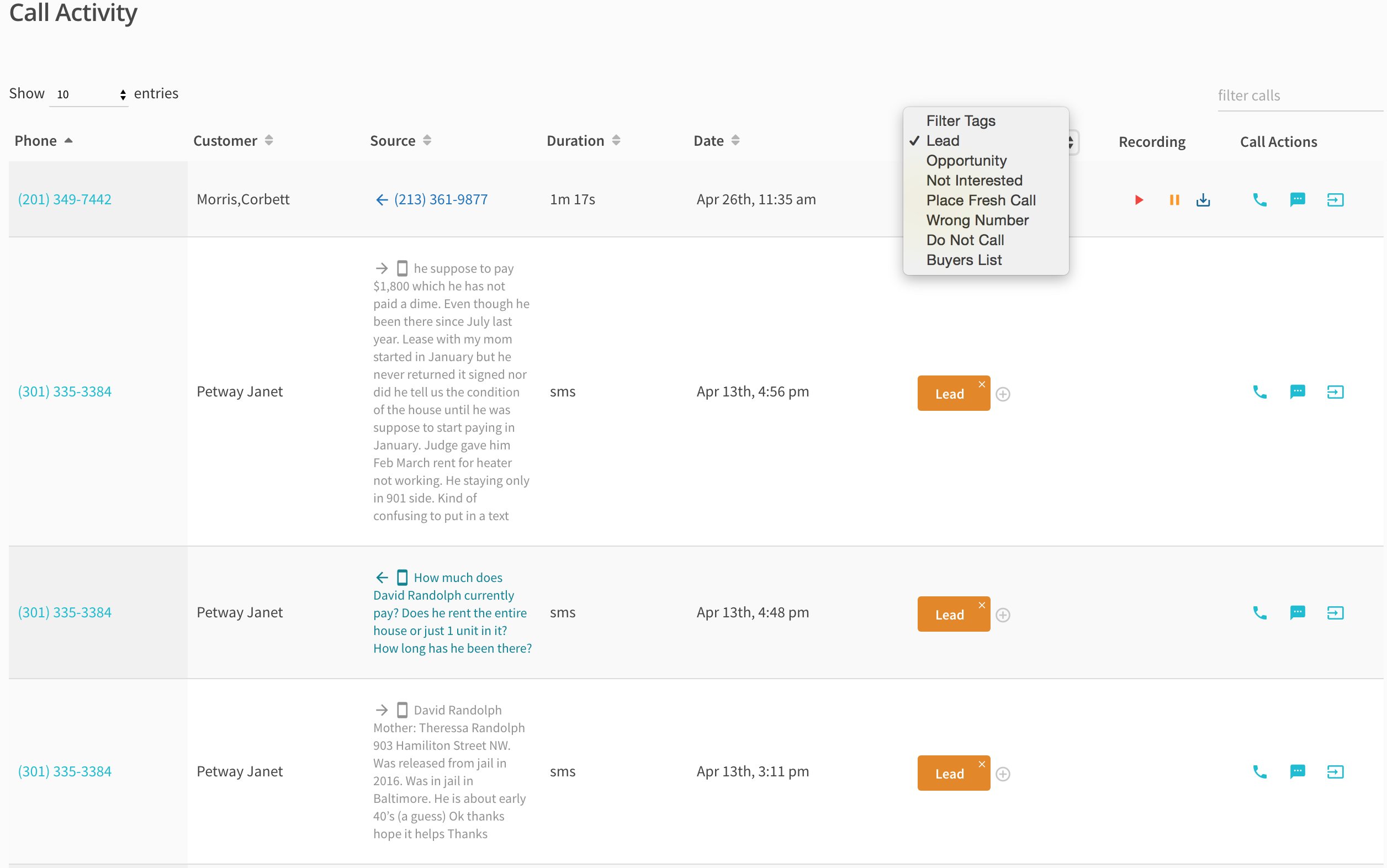 You can also tag a call from the Call Detail page. Sometimes you'll need to see this additional level of detail about the caller before you're comfortable deciding on the appropriate tag.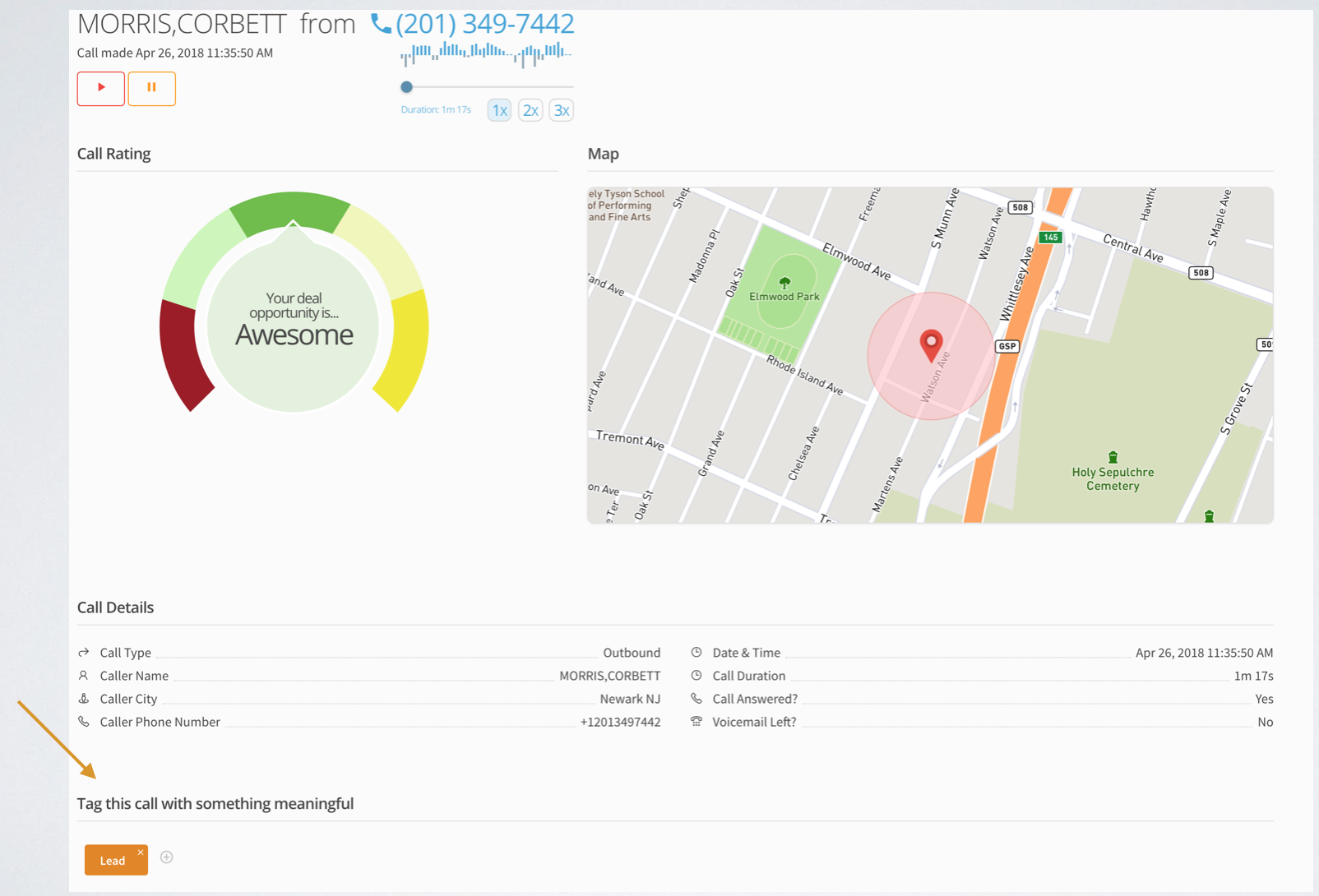 Tagging Contacts
REIRail also gives you the ability to tag Contacts. The concept is the same and the process is very similar to tagging calls. You may find yourself using this feature if, for example, you've had a live meeting with a prospect and based on that meeting you now view this seller as a Lead. Technically there is no call to tag. But you can easily go into the CONTACT RECORD and tag this prospect as Lead.
Certain tags will flow to every call associated with the prospect. Other tags like Wrong Number are call specific.
RELATED TOPIC: At any time you can change or update the details of a contact record. For a demo on how to make these changes you can watch this demo video.
Tag Definitions
Here are the tags that are available in REIRail along with their basic definitions.
Lead - A prospect who fits the criteria that you are marketing for and has expressed an interest in doing business with you.
Opportunity - Simply refers to a call or voicemail where the prospect was open to having another conversation. Callers who say things like "Call back when my spouse is home." Voicemails that say things like, "I'm curious about your offer. Call me back." are what we would call opportunities. Worth following up. But not quite a Lead.
Not Interested - Caller has stated clearly that they are not interested.
Place Fresh Call - We added this tag to capture the various scenarios where the outcome of the call from your prospect was inconclusive. Either they 'abandoned' the call, which means they called back but hung up without speaking to you or leaving a voicemail.
Wrong Number - Caller has stated clearly that this is not the right number. This is different from a situation where the caller is calling from a number other than the one that you marketed to. In those situations, you can use REIRail's "Associate Caller" feature to add that number to the property record.
DO NOT CALL - This refers to callers who request to be placed on the national Do Not Call registry. It's important that you abide by these requests so you don't risk a complaint against your business. This tag makes it easy to comply.
Buyer's List - While most REIRail users think of the system as a tool to find home sellers, it works just as well to find buyers. We've added this tag so that if, in the course of a motivated seller campaign, you come across a prospect who is actually a buyer, you can label them appropriately. You'll want to add that person to your Buyer List. Read this article for info on how to export your call activity and sort the spreadsheet by various fields.

PRO TIP
A prospect who says they are Not Interested is not the same as a request to be placed on the Do Not Call list. If the prospect does not request to be placed on the Do Not Call registry, you may still be able to follow up with them in the future. If they request to be placed on the DNC do it immediately and discontinue your phone marketing to them.